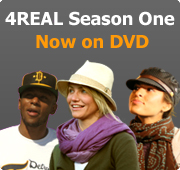 Welcome to 4REAL.com, an online community of individuals from around the world who are passionate about creating social change through action, art, and culture.
4REAL.com is produced by Direct Current Media (DCM) hereby: "4REAL," "we," "us," "our."
Please read the following Site terms of use ("Terms of Use") before using the Site. By accessing and using the Site, you agree to be bound by all the Terms of Use set forth herein. If you do not agree with these Terms of Use, your sole recourse is to leave the Site immediately.
Children under the age of thirteen (13) are not permitted to register on this Site. Online purchases are limited to persons above the age of majority.
OWNERSHIP/RESTRICTIONS ON USE
The Site is owned and operated by 4REAL. Any and all content, data, graphics, photographs, images, audio, video, software, trademarks, service marks, trade names and other information (collectively, the "Content") contained in this Site are proprietary to 4REAL, its affiliates and/or third-party licensors. The Content is protected by Canadian and international copyright and trademark laws.
Except as set forth herein, you may not modify, copy, reproduce, publish, post, transmit, distribute, display, perform, create derivative works from, transfer or sell any Content without the express prior written consent of 4REAL. You may download, print and reproduce the Content for your own informational purposes provided you agree to maintain any and all copyright or other proprietary notices contained in such Content, and that you cite the URL Source of such Content. Reproduction of multiple copies of the Content, in whole or in part, for resale or distribution is strictly prohibited except with the prior written permission of 4REAL. To obtain written consent for such reproduction, please contact us at:
4REAL.COM
207 West Hasting St, Suite 810 Vancouver, BC, V6B 1H7, Canada
604-682-7341
Between the hours of 8 a.m. to 5 p.m., PST
email us
REGISTRATION AND PASSWORDS
To access certain portions of the Site, including without limitation, to subscribe for our e-newsletter, participate in discussion forums or upload your content to our Site, you may be asked to complete an online registration form.
In consideration for your use of this Site and the services provided on it, you agree to provide true, current, complete and accurate information as requested on any registration form to which this Site may direct you, and to update that registration information as soon as possible after any information on such registration form changes.
Upon registration, you may be given a password or user name. You alone are responsible for keeping that password and user name confidential, and for any and all activity that occurs on this Site under such password or user name. You agree to immediately notify 4REAL of any unauthorized use of your password or user name or any other breach of security.
USER CONDUCT
As a condition of your continued access to and use of this Site, you agree to abide by all applicable federal, provincial, territorial and other laws and regulations. In addition, without limiting the foregoing, you agree not to:
upload, post, email or otherwise transmit any material that:


constitutes unsolicited or unauthorized advertising, promotional materials, "junk mail," "spam," "chain letters," "pyramid schemes," or any other form of solicitation;
infringes any patent, trademark, trade secret, copyright or other proprietary or privacy rights of any party;
is unlawful, harmful, threatening, abusive, harassing, tortious, defamatory, vulgar, obscene, libelous, invasive of another's privacy, hateful, racially, ethnically or otherwise objectionable; or
contains any form of destructive software such as a virus, worm, Trojan horse, time bomb, cancelbot, or any other harmful components or any other computer file, program or code, designed to interrupt, destroy or limit the functionality of any computer software, hardware or telecommunications equipment;


harvest or otherwise collect or store any information (including personally identifiable information) about other users of the Site, including email addresses, without the express consent of such users;


for the purpose of misleading others, create a false identity of the sender or the origin of a message, forge headers or otherwise manipulate identifiers in order to disguise the origin of any material transmitted through the Site;


impersonate any person or entity, including, but not limited to, a 4REAL employee, forum leader, guide or host, or falsely state or otherwise misrepresent your affiliation with a person or entity;


attempt to gain unauthorized access to the Site, other computer systems or networks connected to the Site, through password mining or any other means;


interfere with or disrupt networks or servers connected to the Site or violate the regulations, policies or procedures of such networks; and


use, download or otherwise copy, or provide to any person or entity any Site users directory or other user or usage information or any portion thereof other than in the context of your use of the Site.
The foregoing is hereinafter collectively referred to as the "
Code of Conduct
."
FORUMS AND SUBMISSIONS
4REAL may from time to time make discussion forums, message/bulletin boards, and other such online communities (the "Forums") available to you, provided that in connecting to and using such Forums, you abide by the Code of Conduct, the other conditions of these Terms of Use, and any other rules which may be published from time to time by 4REAL and 4REAL is not responsible for material posted on such Forums and will not have any liability related to the content of any such communications, whether or not arising under the laws of copyright, libel, privacy, obscenity or otherwise.
4REAL may, but is not obligated to, monitor or review activity and the content of any communications on these Forums.
4REAL reserves the right to terminate the privilege of any user to post on a Forum or to participate in other 4REAL services if such users violate these Terms of Use and/or the Code of Conduct.
Subject to the terms and conditions of our Site Privacy Policy and to the other conditions contained in these Terms of Use, by submitting any material ("Material") to the Site, you grant 4REAL a worldwide, non-exclusive, unrestricted, royalty-free, perpetual, irrevocable, assignable right and license to use, reproduce, modify, publish, create derivative works from, translate, license, publicly perform and display the Material (in whole or in part) and/or to incorporate it in other works in any form, media or technology now known or later developed, without your prior approval, and you further waive any "moral rights" that you may have in the Material. In addition, by submitting the Material to 4REAL, you represent and warrant that you own and control all rights in and to the Material and that you have the right to grant the foregoing rights to 4REAL.
4REAL is not responsible for the content of any submission to the Site. Submissions represent the views and opinions of the person(s) submitting same.
You acknowledge that 4REAL may establish general practices and limits concerning use of the Site, including, without limitation, the maximum number of days that email messages, message board postings or other uploaded content will be retained on the Site. You agree that 4REAL has no responsibility or liability for the deletion or failure to store any messages and other communications or other content maintained on or transmitted by the Site.
CONTESTS
From time to time we may offer and/or co-sponsor contests, sweepstakes and games on the Site. Each of these activities shall be governed by specific rules accessible from the pages of the Site offering the promotion or when you submit your entry.
PRODUCT DESCRIPTIONS AND TERMS OF PURCHASE
While we and our affiliates attempt to provide an accurate description of products available for purchase through this Site, we do not warrant the accuracy, completeness, reliability or currency of such descriptions. Your sole remedy for the purchase of any product on the Site is to return it for a full or partial refund as set forth in the shipping contract governing such purchase. All other terms and conditions governing the purchase of any product through this Site are set forth in the "Order Information," which is accessible when you select an item to purchase.

Parties to a transaction are solely responsible for all interactions with each other, for arranging for payment and the exchange of the goods or services purchased if applicable, and for the results and performance of any transaction or relationship entered into through 4REAL Marketplace.

You acknowledge that 4REAL is not responsible or liable for any action or inaction of any party to a transaction, for any failure to perform, to pay any amounts due, or to deliver any merchandise or services as promised, or for any other aspect of the transaction.

Any fees or payments collected by 4REAL applicable to 4REAL Marketplace are set forth on the Site, and all terms and conditions applicable to such fees are set forth as well. However, please note that the Terms of Sale do not apply to your purchases of products or services from third parties through 4REAL Marketplace, as those transactions are strictly between you and the other party to the transaction. ALL USE OF 4REAL MARKETPLACE IS PROVIDED "AS IS" AND AT YOUR OWN RISK.
LINKING
It is our goal to provide increased value to you, our visitors. Therefore, the Site might offer you links to other sites on the Internet that are owned and operated by third parties and therefore not affiliated with us. Please understand that such linked websites are independent from 4REAL and that 4REAL has no control over the content of such websites. Consequently, 4REAL cannot be held liable and makes no warranty or representation whatsoever as to the accuracy, timeliness and/or completeness of the information contained on such websites.
The links which we might place on our Site do not imply that we sponsor, endorse or are affiliated or associated with, or have been legally authorized to use any trade-mark, trade name, service mark, design, logo, symbol or other copyrighted materials displayed on or accessible through such sites.
We welcome any feedback that you may have concerning the external links that we have placed on our Site.
DISCLAIMER OF WARRANTIES
Although we strive to update and keep accurate as much as possible the content contained on the Site, errors and/or omissions may occur.
All materials, information, products, and services included in, or available through, this site (the "Content") are provided "as is" and "as available" for your use. this site displays products available from this site, however not all products are available at all times and products may be changed, substituted or discontinued at any time. While we attempt to provide an accurate description of items available for purchase, we do not warrant the accuracy, completeness, reliability or currency of such descriptions.
To the fullest extent permissible by law, the content is provided without warranties of any kind, either express or implied, including, but not limited to, implied warranties of merchantability, fitness for a particular purpose, or non-infringement.
4REAL, its subsidiaries and its licensors, do not warrant that the content is accurate, reliable or correct; that this site will be available at any particular time or location; that any defects or errors will be corrected; or that the content is free of viruses or other harmful components. Your use of this site is solely at your risk. Because some jurisdictions do not permit the exclusion of certain warranties, these exclusions may not apply to you.
LIMITATION OF LIABILITY
Under no circumstances shall 4REAL, its subsidiaries, and/or its licensors, be liable for any direct, indirect, punitive, incidental, special, or consequential damages that result from the use of, or inability to use, this site. This limitation applies whether the alleged liability is based on contract, tort, negligence, strict liability, or any other basis, even if 4REAL has been advised of the possibility of such damage. Because some jurisdictions do not allow the exclusion or limitation of incidental or consequential damages, 4REAL's liability in such jurisdictions shall be limited to the fullest extent permitted by law.
INDEMNITY
You agree to indemnify and hold harmless 4REAL, its affiliates, members, officers, employees, agents, and licensors from and against any and all losses, expenses, damages, claims, fines, penalties, costs and liabilities (including reasonable legal and accounting fees), resulting from (a) any content you (or anyone acting under your password or user name) submit, post, transmit or make available on the Site and/or (b) your (or anyone acting under your password or user name) use of this Site, connection thereto, or any alleged violation by you of these Terms of Use, including, without limitation, the Code of Conduct.
PRIVACY
4REAL respects your right to privacy of your personal information. Please review our Site Privacy Policy for details on the manner in which we collect, use, disclose and otherwise manage any of your personal information.
SECURITY
We take reasonable precautions to safeguard information transmitted between visitors and the Site and information stored on our servers. We are currently using the highest encryption key available on the market to ensure the best security. We strongly encourage readers who send us secure information, to upgrade their browser to the latest version with 128-bit encryption. Despite these efforts, we may be unable to prevent and shall not be responsible for unauthorized access to information on the Site or our servers.
Today, most browsers and networks allow encrypted transmission. You may find that your browser does not support it. If you are having problems accessing our secure web sections please verify the version and security level of your browser.
For further help, you may contact our webmaster.
Email is NOT a secure means to send information, as it is not encrypted. We strongly encourage you to use our secure ordering process when shopping or subscribing.
CHANGES AND TERMINATION
4REAL reserves the right at any time and from time to time to modify or discontinue, temporarily or permanently, the Site (or any part thereof) with or without notice. Further, 4REAL reserves the right to change these Terms of Use at any time and to notify you by posting an updated version of the Terms of Use on this Site.
You are responsible for regularly reviewing the Terms of Use, including, without limitation, by checking the date of "Last Update" at the bottom of this document. Continued use of the Site after any such changes shall constitute your consent to be bound by such changes, with continued provision of the use of the Site constituting consideration from 4REAL to you for so being bound. Your only right with respect to any dissatisfaction with (1) these Terms of Use (2) any policy or practice of ours in operating the Site or (3) any content available through the Site, is to stop visiting and using the Site.
TRADEMARKS
"4REAL" and "4REAL.com" are trademarks of Direct Current Media. Other 4REAL and 4REAL.com marks, graphics, typefaces, trademarks and logos appearing on the Site are trademarks or trade dress of Direct Current Media. All other trademarks appearing on the Site are property of their respective owners. Our trademarks and trade dress may not be used in any manner for any purpose without our express written consent.
APPLICABLE LAWS
These Terms of Use are governed by and construed in accordance with the laws of the Province of British Columbia and of the laws of Canada applicable therein, and any dispute is to be submitted to a court of competent jurisdiction in Vancouver, Province of British Columbia. If any provision of the present Terms of Use shall be unlawful, void, or for any reason unenforceable, then such provision shall be severable from these Terms of Use and shall not affect the validity and enforceability of any remaining provisions.
These Terms of Use and any and all other legal notices or statements posted on the Site constitute the entire agreement between you and 4REAL with respect to the use of the Site, including the Content.
NOTICE
Notices to you may be made via email or regular mail, or in cases of changes to these Terms of Use or to the services offered by the Site, by posting notices or links to such notices on the Site itself.
If you have any questions or comments regarding these Terms of Use please contact us.
Last updated July 2010.