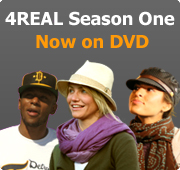 Purchase 4REAL School Curriculum

Additional 4REAL School Information


To request a 4REAL School presentation or for

questions about the curriculum resources,

contact us

.

4REAL School Resources
4REAL School is a dynamic set of teaching guides and DVDs based on each episode of 4REAL. Using thought-provoking, hands-on lessons, multimedia and music, 4REAL School engages students in grades 6-12 on issues such as poverty, human rights, and the environment.

Students learn about these issues through the young leaders featured in the show, which takes place in countries such as Liberia, Kenya, Peru, Haiti and Brazil. 4REAL School is available online.

Melahnie Moodie, 4REAL School developer and teacher, says 4REAL School is being made available to teachers and students at a time when global education is more important than ever.

"4REAL looks at issues through the hearts and minds of young leaders who are implementing community-based solutions," says Moodie.

The curriculum has already been adopted district-wide by the Vancouver School Board.

4REAL co-creators Sol Guy and Josh Thome have already been presenting 4REAL School to thousands of students across North America for the past year.

"It's great to see young people so excited to learn about the leaders and how they are addressing challenges," says Thome. "4REAL School is the ideal way for students to learn about how they too can make a difference."

4REAL School is designed for integration across grade 6-12 curricular subject areas such as Social Studies, Language Arts, Geography, Social Justice, Career and Health Education, Media Arts and Leadership.

Prescribed Learning Outcomes
British Columbia educators: Click here to view BC's IRP PLOs met by 4REAL School.


What people are saying about 4REAL School
"4REAL School engages youth intellectually, compassionately, and globally through art, music, culture and digital media. It empowers students to critically examine various perspectives and world views and to become agents of change in order to make a positive contribution to the world." - Angela Brown, Vancouver School District, Anti-Racism and Diversity Consultant; consultant, writer and editor for 4REAL School.

"4REAL School offers students a powerful curriculum elaborated through meaningful and aesthetic images and music that excite students about their learning." - Peter Gouzouasis, Professor, UBC Department of Curriculum and Pedagogy. (Dr. Gouzouasis helped review the 4REAL School teachers guides.)

"Thank you for that awesome workshop. Easily the most professional and inspirational at the same time. The kids came out charged and there has been steady talk about it since then. Seriously, few people connect with these kids like that." - Gavin Sheppard, Remix, youth program in Toronto


4REAL Presentations
The show's creators, Sol Guy and Josh Thome, use stories from their adventures, videos and music to take audiences on their journeys around the world to learn about some of the most critical issues of our time and to connect with some of the most inspiring leaders and initiatives addressing those issues. 4REAL School presentations are available for elementary school, high schools, colleges, and universities.