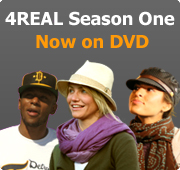 4REAL.com is produced by Direct Current Media (DCM), hereby, "4REAL", "we", "us", "our."

4REAL is committed to preserving and safeguarding your right to privacy. As part of this commitment, we want you to be fully aware of what happens to the personal information we collect through your use of our website located at www.4REAL.com (the "Site"), which is owned by 4REAL. We have prepared this Privacy Policy to let you know about the manner in which we collect, use, disclose and otherwise manage the personal information you entrust to us through our website located at the Site. This Policy addresses personal information about individuals and does not apply to the information collected, used or disclosed with respect to corporate or commercial entities. This Policy does not impose any limits on the collection, use or disclosure of the following information by 4REAL:
your business contact information;
publicly available information recognized under the Personal Information Protection Act (British Columbia ("PIPA") and other Canadian privacy legislation as applicable.
Specifically, this Privacy Policy is intended to notify you of the following:
What personal information of yours is collected from you through the Site;
How the personal information is collected and used;
To whom the personal information may be disclosed;
What choices are available to you regarding collection, use, and disclosure of your personal information;
The kind of security procedures that are in place to protect the loss, misuse, or alteration of personal information under 4REAL.com's control; and
How you can access, correct and/or update your personal information.
If you have any questions or concerns regarding this Privacy Policy, you should contact us at:
4REAL.COM
207 West Hasting St, Suite 810 Vancouver, BC, V6B 1H7, Canada
604 682 7341
email
Between the hours of 8 a.m. to 5 p.m., PST.
THE SITE

You do not have to register to browse our Site. Your registration or subscription is required to join and partake in the 4REAL community and to access some community sections of the Sites. You will also be required to register to enter any online contests that we may offer from time to time. You are required to provide your contact information to us if you wish to send us any comments or questions.
Registration Material

Our Site's registration form asks users to give us contact information such as your name, address, phone number, and email address. You are also requested to select a password. You are responsible for maintaining the confidentiality of your password, and we strongly recommend that you not disclose your password to anyone. 4REAL.com uses the personal information voluntarily given by you to: identify who you are, provide you with information regarding our products and services, process your purchases, or to better prepare future information and content based on the interests of our users. Users may opt-out of receiving future marketing communications at any time.

Your Comments, Inquiries and Suggestions

We collect the personal information you provide us when you send us any comments, inquiries, suggestions or feedback. We use your inquiries, suggestions, survey information and comments solely to monitor and/or improve the use and features of our Site and our product offerings. You are required to provide your contact inforamtion (i.e. email address) if you wish to send us any comments or questions by email.
Contests

We may periodically run contests (4REAL Challenges) on our Site in which we ask visitors for contact information (such as their email address). The contact information is used to contact users to administer contests. At the time you are entering a contest, you may be given the opportunity to register or to receive future marketing information. You may opt-out of receiving future marketing information when you enter a contest; see the choice/opt-out section below.
Other Personal Information the Site Gathers About You
We collect the IP (Internet protocol) addresses of all visitors to our Site and other related information such as page requests, browser type, operating system and average time spent on our Site. We use this data to gather broad demographic user information from which 4REAL.com may perform statistical analyses of user behavior to measure users' interest in the various areas of the Site. We can then tailor the visitors' experience at our Site, showing them content that we think they might be interested in, and displaying the content according to their preferences. We also use your IP address to help diagnose problems with our server, and to administer the Site.
Cookie Technology
Our Site uses a technology called "cookies." A cookie is a tiny element of data that our Site can send to your browser, which may then be stored on your hard drive so we can recognize you when you return. All pages on our Site where you are prompted to log in or that are customizable require that you accept cookies. If you have registered with our Site, these cookies (1) may let us know who you are, (2) are necessary to access your account information (stored on our computers) in order to deliver products and personalized services, and (3) will provide us and our service providers with information that we will use to personalize our Site in accordance with your preferences. You may set your Web browser to notify you when you receive a cookie. However, should you decide not to accept cookies from our Site, you may limit the functionality we can provide when you visit our Site.
ONLINE PURCHASES
When you submit a purchase order online, you will be asked for your name, billing and shipping address, email address, telephone number and credit card information. Your personal information (other than your credit card information) is not used to send you marketing, promotional or other information or material if you so request. You may opt-out of receiving future marketing information; see the choice/opt-out section below. We will not use your credit card information for any purpose other than processing your order.
CHILDREN
Children under the age of thirteen (13) are not permitted to register on this Site. Children under the age of sixteen (16) should not provide any personally identifiable information on this Site without the knowledge and permission of his or her parent or guardian. In the event that 4REAL.com determines that a user of this Site is under the age of 16, 4REAL.com will not maintain or use any personally identifiable information about such user without the consent of his or her parent or guardian, except as allowed by law.
TO WHOM WE DISCLOSE PERSONAL INFORMATION

We will not sell, rent or otherwise disclose personal information without your consent except as otherwise set out herein. We transfer personal information on a confidential basis to trusted service providers who provide specific services and/or administer activities offered at our Site. We may make user Site registration records available on a confidential basis to third-party auditors, data storage firms, and to select measurement and analysis firms. These parties do not use or otherwise disclose any personal information except for the purpose of providing the services or administering the activities on our behalf.
We may also utilize a service provider to assist us in aggregating user information. We may then share such aggregate information with prospective partners and advertisers. This aggregate information does not contain any information that could identify an individual user and contains no data concerning users under the age of 16.
If your purchasers are being shipped to you, we will share your shipping information on a confidential basis with our delivery service providers. Our delivery service providers are contractually prohibited from using your personal information for any purpose other than making the delivery.
Credit card information provided by you when you purchase 4REAL.com products is shared only with the relevant credit card company and/or third-party credit card processor in order to process your purchase.
Sale of Business
4REAL.com reserves the right to transfer any personal information we have about you in the event we sell or transfer all or a portion of our business or assets to a third party acquirer.
Legal
4REAL.com must provide your personal information in response to a search warrant or other legally valid inquiry or order, or to an investigative body in the case of a breach of an agreement or contravention of law, or as otherwise required by law. We may also disclose specific user information when we believe that such disclosure is necessary to protect the interests or safety of 4REAL.com, its customers, and others. In addition, we may disclose personal information to assist us in collecting a debt owed by you.
Forums
If you use any of the Forum features and functions made available on or through the Site, please remember that any information disclosed in these venues is automatically made public. You should exercise caution when disclosing any Personal Information in the Forums, as you do not know who will access and use your Personal Information or for what purposes. 4REAL is in no way responsible for the accuracy, use, or misuse of any information, including Personal Information, that you disclose or receive through these venues and you should assume that any disclosure you do make in these venues will be available publicly, even without your knowledge or authorization.
OPT-OUT PROCEDURES

4REAL.com provides users the opportunity to opt-out of control communications received, as well as cancelling your subscription or registration by chaning your privacy setting in your 4REAL.com account. You may also cancel your subscription or registration for any portion of the Site by contacting us.
LINKS TO OTHER SITES

The Site may contain links to other Sites. Although we try to link only to Sites sharing our high standards of privacy, please be aware that 4REAL.com is not responsible for the privacy practices of such other Sites. We encourage our users to be aware when they leave our Site and to read the privacy policies of each and every website that collects personal information.
SECURITY MEASURES

We maintain administrative, technical and physical safeguards to protect against unauthorized access, use, modification and disclosure of personal information in our custody and control. Personal information, including information collected by cookies and Site-analysis tools, are stored in electronic logs behind our firewall and can be accessed only by approved 4REAL.com staff through password-protected administration Sites. Any credit card inforamtion submiitted is done though industry standard https secure protocols, is encrypted adn and our secure certifiacte is Verisign validated.
CHANGES TO 4REAL.COM'S PRIVACY POLICY

If we decide to change our privacy policy, we will post those changes on our homepage so our users are always aware of what personal information we collect, how we use it, and under what circumstances, if any, we disclose it.
4REAL DEAL

Information You Provide
The information you provide in adding the 4REAL Deal (the Application) is for use of 4REAL Deal only.

Use of the Information We Collect
Information we collect is for the functioning of the Application only and will not be sold, traded, or given away.

Child Protection

4REAL does not offer the Application to, or knowingly collect or solicit information from, anyone under the age of 13. If you are under 13, do not provide us with any information. Any information we receive from people we believe to be under 13 will be purged from our database.

Links to Other Websites

The Application may contain links to other websites, including of nonprofits and Groupon and other organizations. 4REAL is not responsible for the privacy practices or the content of other websites that may be linked to the Application.

Agreement

If you choose to use the Application, your use is subject to the current Terms of Use and Privacy Policy (which is incorporated into and subject to the 4REAL Terms of Use) and you consent to our limited use of information as outlined in our Privacy Policy. We reserve the right to change this Privacy Policy from time to time. If we do make changes, we will post any changes on the Application and will indicate the date the changes were made at the top of our Privacy Policy. Non-material changes are effective upon posting. Material changes are effective 15 days after posting. Unless stated otherwise, our current Privacy Policy applies to all information in our possession.

Security

4REAL takes reasonable precautions to protect our users' information. Your 4REAL Deal information is located on a secured server behind a firewall. Because email and instant messaging are not recognized as secure communications, we request that you not send private information to us by email or instant messaging services. Although we allow you to set privacy setting that limit access to your information, please be aware that no security measures are perfect or 100% effective. We cannot control the actions of other users with whom you may choose to share your pages and information. Even after removal, copies of information may remain viewable in cached and archived pages or if other users have copied or stored your information. If you have any questions about the security of the 4REAL Deal application, please contact us.
CONTACTING US
Please feel free to contact us at any time if:
• you have any questions or comments about this Privacy Policy,
• you would like to terminate your registration with our Site,
• you wish to access and/or correct your personal information,
• you wish to provide or withdraw your consent for 4REAL.com to provide you information about our products and services.

You can contact us by calling us at 604-682-7341, emailing us, or writing to us at 4REAL.com, 207 West Hasting St, Suite 810 Vancouver, BC, V6B 1H7, Canada



This privacy policy was last updated December 2007