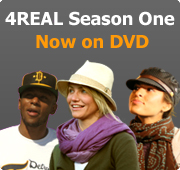 Kimmie Weeks

What's Up:
Monrovia: its raining lions, tigers, zebras and all kinds of things...cats and dogs is childs play.

website


4REAL URL:
www.4REAL.com/kimmie

Kimmie Weeks was the leader featured in 4REAL Liberia. Acclaimed international youth activist, he was barely nine when the civil war erupted in Liberia in 1989. During that time, amid r...