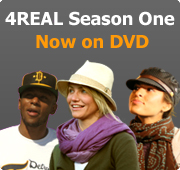 Jade Thome

What's Up:
4REAL Deal now in Facebook. apps.facebook.com/forrealdeal


4REAL URL:
www.4REAL.com/jade

I'm here because I believe in the power of community to create change. Oh, yeah, and I built this website so I sort of have to be here. When I'm not working on the site I'm taking pictures for 4REAL.

Looking forward to getti...