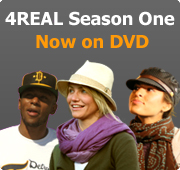 About
4REAL connects individuals with people, projects and tools to make change real.

Aspects include the 4REAL TV Series, 4REAL Deal, and the 4REAL School curriculum.

4REAL TV Series The 4REAl TV series takes celebrity guests on adventures around the world to connect with young leaders who, under difficult circumstances, are effecting real change on some of the most pressing issues of our time. Celebrity guests for Season One are Cameron Diaz, Mos Def, Joaquin Phoenix, Eva Mendes, Casey Affleck, K'NAAN, M.I.A., and Flea of the Red Hot Chili Peppers.

4REAL has aired globally on National Geographic Channels International in 165 countries and 34 languages, as well as on The CW channel in the U.S. and on CTV and MTV in Canada.

4REAL Deal 4REAL Deal lets people give to their favorite cause when they Groupon.

4REAL School 4REAL School is a dynamic set of teaching guides and DVDs based on each episode of the 4REAL TV series. Using thought-provoking, hands-on lessons, multimedia and music, 4REAL School engages students in grades 6-12 on issues such as poverty, human rights, and the environment.